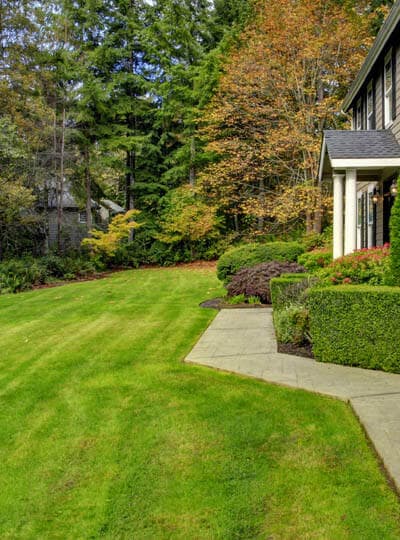 Professional Lawn Mowing & Maintenance Services
In New Jersey, we typically have a 6-7 month long growing season in which your lawn will need to be consistently mowed and maintained. Our mowing and maintenance services will generally start around mid April and finish toward the end of October. Of course, mother nature is a factor here and we will start, and continue to maintain your property as long as it is needed throughout the year.
Most homeowners and businesses in the northern Warren County and southwest Sussex County area have cool-season grass, such as Kentucky Bluegrass, Tall/Fine-Leaf Fescue and Perennial Rygrass. With these types of grass, your lawn will need weekly or bi-weekly mowing at 3-4 inches in height. The typical lawn in New Jersey will need between 20-30 mows each season.
Lawn Maintenance Service Package
You can expect the following services when you sign up for our lawn mowing/maintenance package:
Lawn mowing services performed on a weekly or bi-weekly schedule.
Weed-eating around the perimeter of your house as well as trees, fences, and gardens.
Edging in areas that we can't reach with a lawnmower, including your driveway, flower beds, and any sidewalks in front of or behind your property.
Blow and clear lawn trimmings and other miscellaneous debris.
A properly manicured lawn not only looks nice, it helps to discourage disease. Our lawn care crew treats your yard as carefully as they do their own. We understand that our work represents Noble & Co. Landscaping just as much as it represents you.
Request Your Free Quote Today
You have enough to do without devoting several hours a week to maintaining the lawn of your home. We are happy to take over this chore for you so you can spend more time on the things that matter to you. If you're in Blairstown, Allamuchy, Hackettstown or other surrounding area, please contact us today to request a free quote for lawn mowing and maintenance.