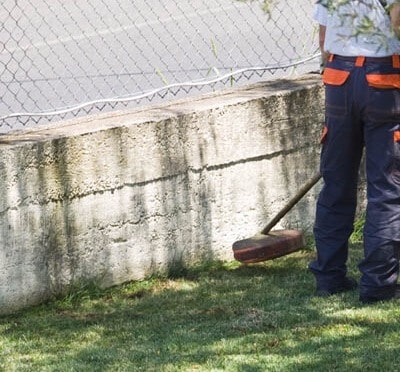 Complete lawn care & property maintenance service for your business.
As a business owner, there never seems to be enough hours in the day. You're trying to grow your company, manage employees and have little time to devote to maintaining the exterior of your business property. Noble & Co. Landscaping offers commercial lawn care and property maintenance packages to meet the needs of business owners in north Warren County and southwest Sussex County, NJ. Our grounds maintenance packages can include the following services:
Mowing: This task can be the most time-consuming of all because it needs to be done often. While most clients choose weekly lawn mowing, we can complete this task according to your preferred schedule.
Weed-Eating: Grass can grow in areas difficult to cut with a lawn mower. Our edging equipment allows us to cut grass along fence lines, in cracks in your driveway, around your garden, and other spots that would be impossible to reach otherwise.
Edging: Our edging service creates a nice sharp edge for your grass against sidewalks and entrance ways. This service gives your property that nice finishing touch.
Blowing: Leaves and grass clippings on sidewalks, parking lots, and other common areas accessed by customers can give them the wrong impression of your business. We use professional blowing equipment to remove this type of debris.
Fertilizing: Your grass needs fertilizer to eliminate weeds, disease and insects. Proper fertilization allows your grass to remain healthy and appear as a rich green color.
Start your commercial grounds maintenance today!
Ready to learn more about how we can take the stress out of maintaining the grounds of your commercial property? If you're located in Blairstown, Allamuchy, Hackettstown or any of our other service areas, give us a call at (908) 362-8169 to get a free quote and schedule your service.